Riboflavin Sodium Phosphate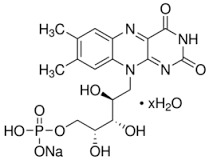 Riboflavin Sodium Phosphate
Price And Quantity
Product Specifications
376.36 Grams (g)

Dry Place
Product Description
The Fuhuiyuan Industrial Co., Limited is highly appreciated the best Manufacturer, Supplier and Exporter of
Riboflavin Sodium Phosphate
. All the products are processed under the directions of our team well-experienced professionals, by using the premium quality components and advanced technology. Furthermore, we are offering the range of
Riboflavin Phosphate Sodium
at market leading prices.
Other Details :
Appearance Yellow or orange yellow crystalline powder
Free riboflavine 6.0% max
Identification Positive Assay 73.0-79.0%
Inorganic phosphate 1.0% max
Loss on drying 7.5% max
Lumiflavine 0.025% max
PH 5.0-6.5
Residue on ignition 25.0% max
Riboflavin-5-phosphate sodium CAS NO.130-40-5
Riboflavine diphosphate 6.0% max
Specific rotation +37.0 +42.0 o
Volatile organic impurities(mg/kg) Meets the requirement
Frequently Asked Questions:
1. Is sodium riboflavin phosphate secure?
Ans. The EFSA panel on components and products or substances used in animal feed (FEEDAP) considers that the use of the components in animal nutrition isn't always of protection situation for consumers. The additives containing riboflavin and riboflavin 5'-phosphate sodium are not irritant to the skin and eyes.
2. What is the usage of riboflavin five phosphates?
Ans. Riboflavin phosphate sodium is transformed into two coenzymes, flavin mononucleotide (FMN) and flavin adenine dinucleotide (fad), which are necessary for electricity production by helping within the metabolism of fats, carbohydrates and proteins and are required for purple blood cell formation and breathing, antibody manufacturing
3. Is riboflavin 5 phosphate a form of vitamin A?
Ans. Riboflavin 5 phosphate is the bioactive shape of vitamin B2. It is a water-soluble diet.